The vertical robot arm is applied for the product removal of all kinds of horizontal injection molding machines ranging from 50t to 350t. The installation direction is different from that of the traditional traverse robot arm, and the finished product and material head are taken out and placed at the end of the injection molding machine. It can make effective use of the workshop space, facilitate the overall planning, and reduce the secondary collision of the product at the same time. After installing the manipulator, the production efficiency can be increased by 10-30%, the defect rate can be reduced, the safety of operators can be ensured, the manpower can be reduced, the output can be accurately controlled and the waste can be reduced.
Model List:
ZGLC 900SJXB
ZGLC 900SJXB
ZGLC 900SJXB
Remark: LC: 2 axis; Z: vertical robot;
Model
I.M.M Range (T)
Vertical Stroke
(mm)
Croosswide stroke (mm)
Horizontal stroke (mm)
Type
Min take time
(sec)
Max load (kg)
Dry cycle time (sec)
Air consumption (nl/cycle)
Drive method
Air power
Working air pressure
(kgf/cm²)
Power
ZGLC 900SJXB
50-150
900
300
2500
double stage
4.5
5
7.5
15
XY: servo motor
0.6-0.8
5-7
AC220V(±10%)50/60Hz
ZGLC 1000SJXB
150-250
1000
300
3000
double stage
5
5
8.2
17
ZGLC 1100SJXB
200-320
1100
300
3500
double stage
5.5
5
9
19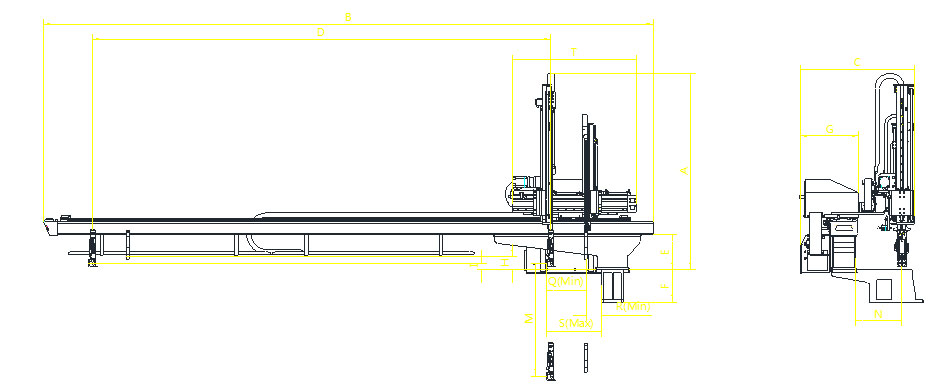 *Without further notice if specification and exterior have been changed because of improvement. Thanks for understanding.